Update 03/04/2013: Chemjobber made a few!
Thanks to a recent xkcd comic I've just discovered a wonderfully concise new way to communicate – non-overlapping Venn Diagrams: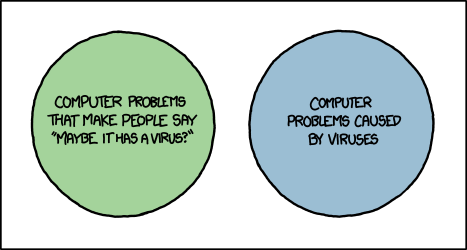 For example, here's a statement my boss made last week expounded thus:
I quite enjoy the contradiction between the visual simplicity of displaying information in this way and the fact that it's actually a lot more effort to construct these than write a sentence that conveys the same information, as well as their highly inefficient use of space. There's  just something kind of amusing about them. Or I think so, anyway.
Give it a go, and share any good (chemistry related) ones you can think of in the comments. I've just put one in a talk I'm writing on acyclic stereocontrol for a group meeting; I'll let you know how that goes down next week!
Recent Comments
The Archives
Subscribe to BRSM by Email
All Time Most Popular
Categories
Links
Follow me on Twitter
My Tweets